Dwight's Pre-Thanksgiving Celebration
November 13, 2016
Dwight Howard & Family Serve Thanksgiving Dinner To Deserving Kids.
Returning to his alma mater, Dwight Howard provided a Thanksgiving meal to 50 kids in foster care, along with 50 student volunteers at Southwest Atlanta Christian Academy. This Thanksgiving, we're grateful knowing that you and yours are part of our amazing family. As the video shows, we're a pretty remarkable one! #TrueToAtlanta #BeGr8
Video video from the event
---
D12 Superguests
November 7, 2016
We were Proud to host these scholars from KIPP Atlanta Collegiate. For Saturday's game. A #GR8 group of young women! #BeGR8 #TrueToAtlanta.
Know a group of GR8 kids doing GR8 things in Atlanta? Click here to nominate them for Dwight's SUPERGuest game ticket program!
---
Stopping Bullying, SpeakUp
October 11, 2016
Dwight Howard is proud to be part of Cartoon Network and its efforts to Stop Bullying: Speak Up. Get involved: explain to your kids what bullying is, and that it is NEVER acceptable. Express your concern & make it clear you want to help.
---
Dwight Howard On Helping To Empower And Educate Girls In East Africa
August 29, 2016
The NBA star hopes his efforts will change lives forever.
Dwight Howard has made a number of career highlights on the court but off the court the basketball superstar has been making a difference, too.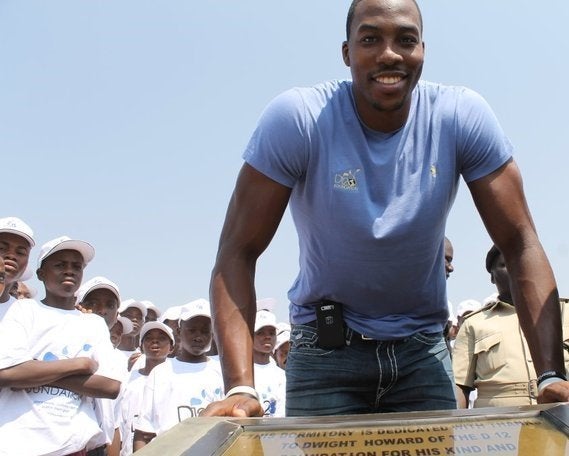 Through the years, the Atlanta Hawks center's D12 Foundation has made advancements in its efforts to empower the schoolgirls of Tanzania by providing the nation with educational resources. In July, the NBA star's foundation hosted a back-to-school event where 463 girls, ages 12-18, were provided with locally-made school supplies, gym shirts and hygiene kits.
After visiting on behalf of the NBA Cares Foundation, Howard says he was later inspired to return to the East African country in 2012 to personally fund the construction of dormitory housing for girls entering secondary school.
"One of the things that I was told was that it's very hard for women to go to school, and when they do there's a danger of them being raped or kidnapped and all sorts of things happening with them getting to school," he said during an interview with The Huffington Post. "That didn't sit too well with me. And so I just want to do my part to help these women with the opportunity to go to school and learn."
More than 62 million girls worldwide lack education possibly due to various factors which might include, inadequate resources, school fees, high pregnancy rates and the risk of possibly falling victim to predators during their commutes, according to the United States Agency for International Development. Since 2003, nearly 50,000 pregnant girls in Tanzania have been denied education due to a law that permits schools to refuse to admit or readmit students with "undesirable physical health."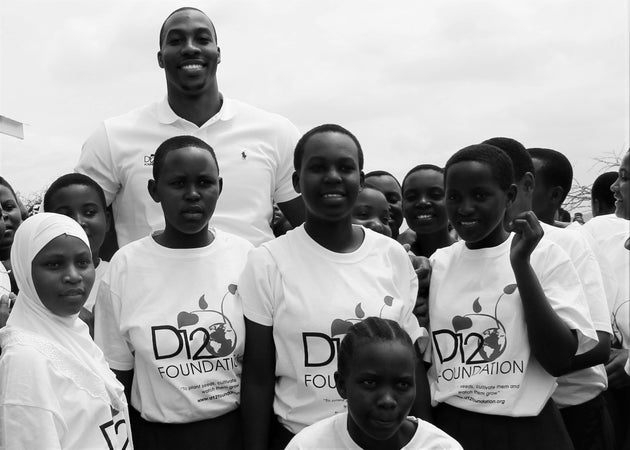 Given clarity of the vast challenges these young women face, Howard says his foundation met with Tanzanian government officials to discuss the school system's biggest needs prior to allocating resources.
"I want to show them that they mean something," he said. "A lot of times I think these women get taken for granted and that's why they drop out of school and they don't get education. So my job is to try to help them understand that they're an important part of our world."  
In addition to providing education to the girls of Tanzania, Howard also wants his efforts to coincide with his foundation's initiatives surrounding early childhood literacy and youth leadership development.
He went on to describe his overall purpose for cultivating today's youth as something that will transcend his NBA career.
"This is something that I was put on this earth for, to give back. And I think the best thing you can do with your time is to give," he said. "For me, just to see these kids grow and go in the right direction it fills my heart with joy.
"A basketball career for me is great, but there's a time where that basketball career will be over. These kid's lives can change forever. And that's something that will continue to go on even after I'm done playing basketball. So I'm doing anything I can for the community and anything I can for the world ― makes me feel a lot better."
Article by Brennan Williams at the Huffington Post
---
Big day for #NewBeginnings4All in Arusha!
July 20, 2016
The Her Best Foot Forward  workshop was buzzing with women working on the bags and kits. We unloaded shirts and supplies for the Kipok Secondary School for Girls, for which Dwight has provided girls' housing (a key factor in allowing girls to pursue their education: housing=safety). Since each girl must have the same gym shirt you can be 469 Kipok girls (perhaps a few more!) will be styling in short order!
Everyone in the workshop loved the shirts and the name "Dwight Howard" provided a quick lesson on English (-gh is hard to explain - glad their English tutor comes tomorrow!). When your native language is Swahili - or one of the other 125 tribal languages spoken in this country! - "Dwight Howard" is really (really!) difficult to say. "Howard" was much easier than "Dwight." They asked to see his picture: the only one which did not require highly expensive data to retrieve was the attached (he is standing next to me so looks even taller than usual). A ripple went through the group, a certainty that Dwight's ancestry is Maasai, a tribe known known for their stature and ability to jump to amazing heights. 
This team is so excited to be involved in supporting girls pursuing education to a level beyond what they had the chance to receive. If you scan their bios (seen on the website for Her Best Foot Forward here: http://www.footforwardfund.org/the-artisans.html you'll note that most ended school around the age of 11 or 12; you'll also note that each one (who has a child) lists her "dream" as having her child be educated. 
We scoured the marketplaces for the notebook each girl needs. You think "back to school" is tough in the US? Think again! The 469 notebooks eluded us - but we rise again tomorrow! It is very good that the coffee is SO good.
---
Rockets' Dwight Howard leads community blood drive
April 12, 2016
To honor the determined fight of Craig Sager, Houston Rockets center Dwight Howard is inviting the public to show their support for the broadcaster and others in need of life-saving blood transfusions.
A blood drive honoring Sager will be held from 11 a.m. through 7 p.m. at Toyota Center on Wednesday. Sager, a beloved member of the NBA community, has been battling acute myeloid leukemia for the past two years. 
The drive is being organized by the Gulf Coast Regional Blood Center with support from the Houston Rockets. All who donate or attempt to donate will receive a T-shirt featuring pictures of Howard and Sager. The shirt will be a great wardrobe addition, especially for those heading to the Rockets' season finale game at the Toyota Center that evening. 
The Gulf Coast Marrow Donor Program will also be at the drive for people who wish to join the Be the Match ® Registry for potential donors. Sager has received bone marrow transplants from his son, Craig II, as part of his treatment.
Howard, who is also founder and president of the D12 Foundation, said he wanted to host the drive to bring awareness to the need for blood for Sager and other leukemia patients.
"Craig Sager is admired by so many in the NBA family, including my Rockets teammates and our loyal fans," Howard said. "We honor Craig's fight against leukemia, and want the public to know how important it is to donate blood to aid people like Craig, who rely on life-saving transfusions. Craig has always been a person who could bring people together. It is no surprise that once again he is inspiring others through his courage."
---
Dwight Howard joins Stephen Colbert for #BestSchoolDay
March 10, 2016
DonorsChoose.org kicks off #BestSchoolDay with Stephen Colbert. Celebrities, athletes, business execs and more have joined Colbert's campaign to fund supplies and resources for classrooms in need in need across America.
Lear More
---
Dwight Howard Transforms into a Zookeeper for the Day
February 26, 2016
Courtside is a new digital video channel dedicated to exploring NBA players' lives, talents and interests on and off the court. In its latest "The Give Back" segment, Dwight Howard—in conjunction with the Houston Zoo, The Fifth Ward Enrichment Program and Barbara Bush Houston Literacy Foundation—transformed into a zookeeper for the day, expanding on his love for animals.
And Howard brought along a special guest, JonMitchell Goode, an eighth grade student at Houston's McReynolds Middle School. Together, they interacted with the animals and a group of younger kids for a book reading and show-and-tell with different creatures, including an armadillo and some snakes (Howard's favorites).
Check out the video below to see the Rockets star support the Houston youth community in a unique and special way.
---
Dwight Visits the Central Oklahoma Juvenile Center
February 23, 2016
While in OKC Dwight Stops by the Central Oklahoma Juvenile Center through the Ali Center to help inspire kids to stay on the right path and work hard to be who they want to be.
---
Dwight Howard and Barbara Bush team up for Literacy PSA
February 2, 2016
Dwight Howard teamed up with the with former First Lady Barbara Bush and the Barbara Bush Houston Literacy Foundation to film two PSA's at the Toyota Center. Howard helped the 90-year-old Bush around the court and even cuddled up for some sweet promotional photos – both wearing matching Rockets jerseys, of course.
The joint PSA will encourage viewers to volunteer at a school, library or nonprofit through Connect4Literacy.org, a website created by the Barbara Bush Houston Literacy Foundation, according to the organization's Facebook.
---
3-Point Santa Holiday Event
Decemeber 11, 2015
The D12 Foundation and Dwight teamed up with Barbara Bush Houston Literacy Foundation, Target and JCPenney to help kids have a ver merry holiday season.‪
Checkout the video from he event
---
Dwight hosts basketball camp
September 22, 2015
All-Star Center Dwight Howard hosted his ProCamp presented by Academy Sports + Outdoors this past weekend. Throughout the camp Dwight offered tips and instruction, highlighting the finer points of basketball. Campers experienced various stations specializing in fundamental basketball skills and participated in basketball games. Campers were placed in small groups according to age to ensure that each child gets maximum instruction.
View photos from the event

---
Dwight Hosts Friends at The Sugar Land Skeeters game
September 21, 2015
Dwight hosted youth and local police officers to a family fun night at Sugar Land Skeeters baseball game.
View photos from the event

---
Dwight visits Sprinkles cupcakes in Houston
June 11, 2015
Thanks to Sprinkles for donating $10,000 to the D12 foundation.
Checkout the video from he event
---
Post Rockets victory, fans ride out storm at Toyota Center
May 26, 2015 - By David Barron | Reporter, Houston Chronicle
The Rockets won Game 4 of the Western Conference Finals in regulation, but Monday night's deluge stretched the proceedings into overtime for about 350 fans and at least one Rockets player, center Dwight Howard, who remained at Toyota Center as rain continued to fall early Tuesday.
Arena officials posted an advisory on the stadium scoreboard advising fans to wait out the storm as the game ended shortly before 11 p.m. Most left, but a few opted for discretion over venturing onto flooded downtown streets and freeways.
Most Rockets players headed for the exits, too, but Howard opted to wait it out after hearing from friends about treacherous road conditions. Click here to view full article
---
Dwight Howard Honors Young Fan Who Died
march 31, 2015 - Story by: Mike Fiammetta / Sports Illustrated
Houston Rockets center Dwight Howard honored James Fisher, a young boy who died on Monday after a battle with brain cancer, with an Instagram video.
Howard posted the video with the accompanying caption: "Rest in peace lil James Fisher. He passed away a couple hours ago. He was the little kid I picked up to dunk a couple of months ago during pregame warmups. He also gave me the rubber band that says James strong. He was such an inspiration to me and my teammates. I have worn the band everyday since he gave it to me and I will continue to wear this band. You are in a better place. No more pain. No more hospital visits. Just peace love and happiness. And you can dunk as many times as u want. See u in heaven James."
Howard and Fisher met in December, when Howard helped seven-year-old Fisher dunk a basketball before the Rockets' game against the Phoenix Suns at the Toyota Center on Dec. 6.
On a Facebook page set up on Fisher's behalf, his family encouraged funeral visitors to arrive wearing jeans and a Houston Texans jersey or Rockets t-shirt since Fisher "loved" those two teams.
---